"Music is magical"
-Pythagoras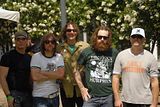 The Lord Is My Shotgun
Photo Credit: Barbara Ann Fara
Barbara Fara
Editor-In-Chief
Music Incider Magazine
The Lord Is My Shotgun is Chance (singer), Darren on guitar, Matt on keys, Daniel on bass, and Wayne on drums.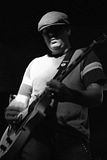 Darren Lee
Photo Credit: Barbara Ann Fara
Everything about Beerfest in Woodruff Park was supposed to be wrong: weather reports forecasting unbearable heat deterred Atlantans from showing up and sound problems delayed The Lord Is My Shotgun's performance for two hours.
Everything turned out right. The sun shined down against a stunning blue backdrop and cityscape and shade cooled the 1,000 or so beer and music fans who occupied the downtime with drinking and conversation. And, Beerfest has replaced Music Midtown as an enjoyable outlet to hear local bands.
Prepared but left waiting for two hours, the psychedelic rock group, The Lord Is My Shotgun stole the show once the sound system was finally fixed.
When TLIMS performs, you don't just see them, you feel them. They transcend time and space to become one with their music. It's like they're each dancing with their instruments and come together in a complementary musical orgy. They are what a band should be – together in their music and spirit, and fan friendly. – Sami
This is one band that should be on a major label, not an indie because they are kick ass and know how to put on a good show. I agree with Sami. It's like they each are doing their own thing, but together they make a great sound.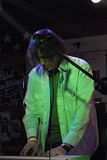 Matt
Photo Credit: Barbara Ann Fara
When I see Chance, I see Jim Morrison. When I see Matt, I see Raymond Zarek. Wayne is incomparable. With sticks in hands, the drums become a part of his body, mind, and soul. When you see Darren on guitar, it's like watching Angus Young. But, they're truly unique and their own band and their own musicians. They're not playing to please the crowd. They are playing for their own enjoyment.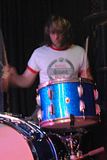 Wayne
Photo Credit: Barbara Ann Fara
I would call them the major breakout band of Atlanta. If you can, see their show. They know how to rock. They're incredible live, and you only get a taste of them when you hear their music. They're perfectly mixed and mastered as heard on their recordings on their myspace page.
The only thing they need is good management who understands how Chance has been burned in the past. He doesn't want this new band to be fucked over. He deserves better. This band is going to go places. We want to see them at Warp Tour or Jagermeister Tour next year.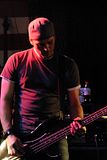 Daniel
Photo Credit: Barbara Ann Fara
The Lord Is My Shotgun is working on their CD and it will be released sometime this year, or early next year. Give this band credit for playing 4 times a week and still getting their asses into the studio to work on their masterpiece.
They want everyone to enjoy themselves. They treat their fans like family. The tickets are affordable, and the band kicks ass.
Listen to me, major labels, give The Lord Is My Shotgun the chance they deserve. This band rates a 20 on a scale of 1 to 10.
Chance
Photo Credit: Barbara Ann Fara
Chance Walls, TLIMS's singer, started his career at age 17 in the band The Drag. They were on various major and indie labels before signing to Island records in 1995. The Drag was later dropped after the label fucked up. They took a break in 2001, and will be touring to let the world hear what The Drag was like for its compilation CD. Support The Drag, because without it there would be no The Lord Is My Shotgun.
We went out a week later to Sweetwater Bar in Duluth because we couldn't get enough. They stole the show – again.
MI would rather see TLIMS than Artemis Pyledriver, and Artemis has all our love. TLIMS is more spirited.